"I am Lena Benjamin, Founder of EmpowerHER Global as well as other business opportunities, here is the story of how I got the idea of EmpowerHER Global – empowerherglobal.com"
"I want to Empower women, to be the change that we need to see in the world. The opportunity to have an impact on a global scale and not just in your immediate environment empowers me and I hope it does you (whether you are single, married, have children, divorced, a woman or man).
My focus since as long as I can remember is to empower women to take action in ways that will sustain civilisation – environmentally, economically and politically. Humanity and humility is needed from the empowered woman and technology is the answer. This importance was particularly highlighted in the top takeaway I provided in the book Financial Times Guide to Management in 2014 "It's about truly embracing humanity and humility in order to sustain civilisation…". I hope you agree that these words 'humanity' and 'humility' are important for us to work together, should you choose to be involved in EmpowerHER Global." [Photo caption: press clipping from a local paper having won a school's walking competition for charity]
Pitch 'Investor' Deck | Survey | Strategic Advisors |Strategic Partners
"I have worked in a multitude of male dominated industries including global engineering consultancy and reinsurance firms. In 2009, 10 years after being a young committee board member for the Women of the Year Lunch & Assembly (WOYLA), celebrating prominent women in all fields, I founded the UK's first online platform connecting professional women with coaches and mentors. The aim of onescompany.co.uk was to take women on a journey to the next level of their personal and professional development with the support of member coaches and mentors. Ones Company, because women needed to understand that they must work on themselves in order to be the best versions of themselves – a name that was created by my sister. Remember you put the oxygen mask on yourself first if the plane is loosing altitude." [Photo caption: Written piece from the Women of the Year Lunch & Assembly Millennium brochure]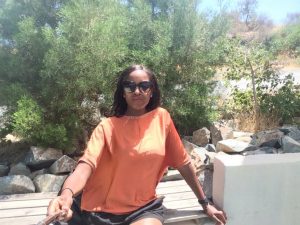 "Freedom is important to me. I have been taught that education is the passport and the key to life. I have attended three Universities in London UK. I have one higher diploma and two degrees, and yet I know education is not sufficient alone. Formal education certainly doesn't empower in the same way as exploration does. There is a need for common sense and passion in order to be successful in the twenty first century. I believe I have these key attributes that have enabled me to really push through adversity and take action. This is why I now have a signature consultancy program called Actions4Growth™". [Photo caption: In Cyprus June 2017]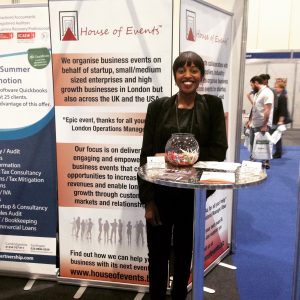 "The need to try new things continues to be really important to me. I have learnt my greatest lessons from starting and failing learning in business. Much more than simply completing degrees, including a Master of Business Administration (MBA) in 2010 or working for large corporations that can stifle personal and professional growth.
From starting the UK's first and largest online multicultural bookselling business approached by Amazon and commended by the then Mayor of London in 2004. To starting a governance business offering clerking services to schools. We were also going to empower executive boards by providing them with administrative services for their meetings that would enable effective corporate governance. Those businesses although failures were learning experiences that have been the driving force for my learning, perseverance and resilience." [Photo caption: Exhibiting House of Events at London ExCel in 2016]
"I've worked in the most high end department stores in central London / City of Westminster on the cosmetics counter in my late teens early twenties including Selfridges, Liberty and Harvey Nichols. I learnt so much while working in Mont Blanc in stores based in Mayfair, Canary Wharf and in the City of London. I met Royalty and stock traders that spent thousands on pens, bags and belts. The experiences heightened my ability to be able to speak to anyone and at any level. I have never been afraid to do what others are afraid to do. As we know F.E.A.R is an acronym for False Evidence Appearing Real." [Photo caption: In Lanzarote 2014]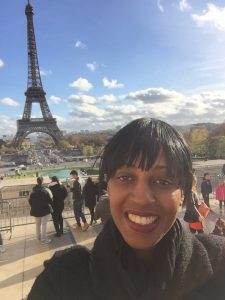 "After being a landlord for four years and being involved in property for over 10 years including working for the largest south London estate agencies. I needed to spread my wings so I decided to sell up on the properties I had and travel. To explore and to empower myself by learning from others around the world. I travelled alone and extensively from 2014 and will continue to do so. I have travelled to New York City, Washington DC, Grand Cayman, Milan, Chicago, Cyprus, Paris and more. Uber and Airbnb were my saviour during that time and still are despite the controversies. I have even been in touch with Travis Kalanick, now former CEO of Uber and he kindly forwarded my email to a colleague in LA who I spoke to while I was travelling in Chicago. I've also organised the London Uber Christmas party in 2015 while I ran House of Events." [Photo caption: In Paris – Nov, 2016]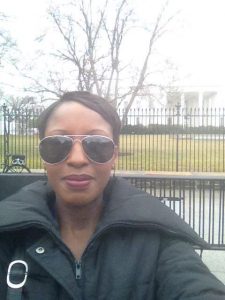 "Travel remains a passion of mine and has been the key to opening my mind to new opportunities whether they worked out or not. I now have a global travel booking website that offers the opportunity to book ATOL protected flights, hotels and car hire. Now I can empower others to explore the world and seek adventure in both business and leisure. The site is usandbeyond.com – explore and travel to the United States of America, Caribbean, Europe and beyond. Now I can simply book my travels on this website and so can you! Check out special offers, travel blog and holiday superstore. I just booked a trip to Santorini Greece, travelling in Oct '17 on usandbeyond.com. I'm looking forward to the adventure." [Photo caption: In Washington DC 2015]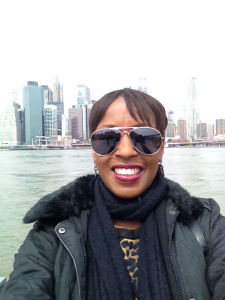 "In the year 2025 I will be 50 years old, God-willing, and I can't wait. I can't wait because I know that if I make it to that age, that every year until we reach the year 2025, a wave of power hits me at my core as a human being. I feel more inspired and empowered to make a difference."
"I am a StartupBootcamp InsurTech London mentor. My aim is to be on as many executive boards of technology based businesses as humanly possible. By 50 years old I expect that to be a reality.  I'm hungry to learn from the best entrepreneurs from around the world and empower their growth along the way. My focus will be encouraging more female entrepreneurs in tech." [Photo caption: In New York City 2014 my first trip to the USA alone]
"It is the year 2017 as I write this and I'm sure in less than 8 years time my future self will be in a place where I feel proud of my legacy so far. The ripple effect will be felt. This is what I hope for you too. In fact I know you are one of the jigsaw puzzle pieces what we need in this world to sustain civilisation. So if you are a woman in technology and you have a business that will help humans to be around in the next century or the tech business you work for empowers you, your employees and customers, then you too should want to contribute and grow with EmpowerHER Global. If you are a man and know how important it is to empower women and you have the resources and expertise to make a difference – I'd love to hear from you too – you'd make a great strategic advisor and / or investor." [Photo caption: In Chicago 2016]
"I'm a very proud Capricorn – the most prominent qualities of the Goat, as we are called, are that we are ambitious, conservative, determined, practical and helpful. Sounds about right! Keynote Capricorns in my opinion are: Michelle Obama, Shonda Rhimes, Mary J Blige and Laila Ali. Women that EmpowerHER Global."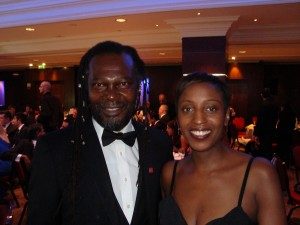 "It is empowering to note that Entrepreneurs are the Change we need to see in the world. I mentioned this at Entrepreneurs 2012, Leaders First conference when I spoke on a panel called Managing Culture. The event was held at ExCel in London with special guests President Bill Clinton, Karren Brady and Levy Roots. What a day and evening that was."
[Photo caption: With Levy Roots at the dinner after Entrepreneur 2012]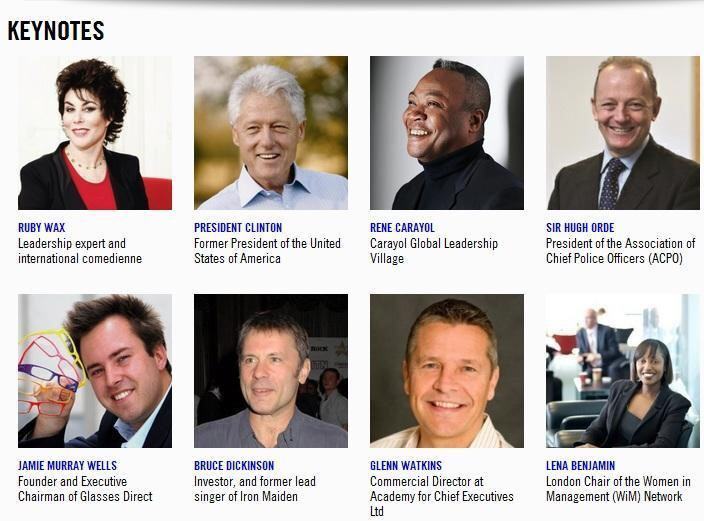 1999 & 2000 – Young Board Committee Member for Women of the Year Lunch & Assembly (WOYLA) with women of the year including Floella Benjamin (Chair at the time), Joan Armatrading, Ellen McCarthy, Doreen Lawrence, Lorraine Kelly, Esther Rantzen et al. The events were planned and held at The Savoy and Ritz.
2008 – 2010 – Created the UK's first online platform to empower women globally on their personal and professional development through member coaches and mentors. Created the concept 'Speed-coaching' with member coaches speed coaching women at events in Central London locations.
2010 – 2011 – London Chair Women in Management part of Chartered Management Institute responsible for chairing meetings, mentoring female managers, strategic event planning to engage female leaders. Lead on creating Inspiring Women in the 21st Century which started at the Houses of Parliament. Represented the Women in Management Network at Entrepreneurs 2012, Leaders First event at ExCel London with special guests including President Bill Clinton, Karren Brady and Levy Roots.
2014 & 2015 – Creator of Empowering Women Summit which were organised in City of Westminster in London at upscale venues including Chesterfield Mayfair Hotel and The Royal Institution. Panellist members / speakers in 2015 included senior leads from the following organisations: Avis, Etsy and Monitise. Event focused on technology and entrepreneurship, more details at ews15.eventbrite.co.uk.
2017 – Founder & CEO of EmpowerHER Global – creating online platform for female tech leaders to enable continuous business growth and collaboration on a global scale.
"I believe anything is possible.
I see opportunity when others see impossibility.
I take risks. I'm focused. I hustle.
I know that nothing is unrealistic.
I feel overwhelming love.
I embrace my childlike wonder & curiosity.
I take flying leaps into the unknown.
I contribute to something bigger than myself.
I create. I learn. I grow. I do.
I believe it's never too late to start living a dream.
"Remember if you are not doing what is truly in your heart and what you are passionate about, the strains will begin to show. I've been there and it is not nice.
Thanks for reading. I hope we get to converse in the not so distant future. Click on the links to find out more about EmpowerHER Global (empowerherglobal.com)… PITCH 'INVESTOR' DECK | SURVEY | STRATEGIC ADVISORS | STRATEGIC PARTNERS | OPPORTUNITIES"
NOTE: Currently EmpowerHER Global trades as Capitalize Ltd but once this global membership portal becomes a viable opportunity, an LLC will be incorporated via a provider that enables dynamic subscription transactions in multiple currencies, incorporation of a USA business and the opening of a Silicon Valley bank account.
Lena Benjamin: Challenging Female Gender Stereotypes on YouTube (speaking at an inner City London school)