On all major podcasting platforms incl. Apple, Spotify and TuneIn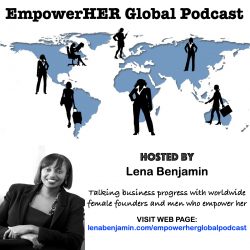 Lena Benjamin talks all things business progress and success with female founders worldwide and men who empower her global. Some of those entrepreneurs are featured above with their respective businesses. Visit Apple Podcasts, TuneIn, Stitcher, Spotify and Awesound to subscribe. 
Get involved in the EmpowerHER Global Podcast. Click on the Schedule Interview or Listen & Read. Free of charge!
Business growth action plans for women in business progress